May 5, 2013
Aishah Shahidah Simmons and Ramesh Kathandhi (Men Stopping Violence) join Spelman College's Fight to End Sexual Violence on HBCU Campsues
I was honored to receive an invitation from Dr. Beverly Guy Sheftall to return to Spelman College on April 25, 2013 to join their fight to address and end sexual violence on Historically Black College and University campuses (HBCU).
With the news about the recent arrest of four Morehouse College students on sexual assault charges, it is explicitly and undeniable clear that now is the time to continue the very difficult dialogue about eradicating rape and rape culture. Make no mistake, rape and other forms of sexual violence are happening on all college campuses across the country. Tragically, there aren't many "rape free" spaces. In a culturally specific context, however, the horrible combination of racism and misogyny often results in a deafening silence when Black men rape Black women. This is evident on too many HBCU campuses.

Ramesh Kathandhi and Aishah Shahidah Simmons (photo: Lani Jones)
On the evening of April 25, 2013, we were small in number in Spelman College's Cosby Auditorium. And yet, we had a powerful post-NO! The Rape Documentary discussion about breaking the silence about sexual violence and ending rape culture on our college campuses, in our families, our communities, and society at large. I was very fortunate to co-facilitate the dialogue with Ramesh Kathandhi, who is the internship coordinator at Men Stopping Violence. Drs. Beverly Daniel Tatum (President of Spelman College), Darnita Killian (Vice President of Student Affairs), and Kimberly Ferguson (Dean of Students) were also in attendance and expressed a commitment to tackle this issue head on with the students.

Aishah Shahidah Simmons (middle) with Drs. Beverly Daniel Tatum, Cynthia Neal Spence, Lani Jones, Beverly Guy-Sheftall, and Darnita Killian

We will continue and broaden this dialogue at Spelman College in the fall 2013 and in the spring 2014. Stay tuned for details when they become available.
Infinite gratitude to Drs. Beverly Guy-Sheftall, Cynthia Neal Spence (Associate Professor of Sociology and Trustee of the Board), and Spelman College's Women's Research and Resource Center (WRRC) for their tireless and relentless work to not allow the vicious rape epidemic go unnoticed, unchecked, and/or unaddressed. Founded in 1981 by Dr. Guy-Sheftall, the WRRC has been long-term supporter of NO! The Rape Documentary from conception (1994) to completion (2006) and distribution (present day).
May 5, 2013
Radical Love, Race, and Feminist Futures
On May 1, 2013, Brooke Elise Axtell with Monica J. Casper, Heather Laine Talley, and Aishah Shahidah Simmons concluded The Feminist Wire's (TFW) 10-day Forum on Race, Racism, and Anti Racism Within Feminism with their Radical Love, Race, and Feminism article.
…We are called to be fiercely honest, compassionate, and gracious in our discourse. Radical love can hold our rage, our sadness, and our grief over the ways we have failed each other, and may continue to fail each other. Without love, we remain fractured beyond measure.
In closing, we want to offer an opening; that is, our Forum has been as much about forging dialogue as it has been about trying to locate lived experiences. Over the past ten days, this collection of essays, visual art, poetry, creative nonfiction, and love notes has functioned as an invitation to think critically and to act ethically, to recognize our structural locations, and to innovate new ways of living as allies and practicing community.
As part of our commitment to continuing this dialogue about race, racism, and anti-racism within feminisms, we will continue to publish works that engage our deepest concerns as a collective. We invite you to share your insights with us as we explore more of this fertile and volatile terrain…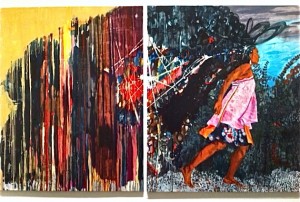 Painting by Mequitta Ahuja
Radical Love, Race, and Feminist Futures includes links to every single article, love note, poem, interview, and visual artwork that was featured in the Forum. If you missed some of the featured pieces or would like to refer to them in the future, you may do so by clicking here.
TFW's co-founder and managing editor Tamura A. Lomax said, "[the Forum] was the most diverse critical discourse on this subject/life matter to date." She continues,  "And yes, I'm quite thrilled that it happened at TFW. The issue(s) re: race within (and without) feminism is not black and white, nor is it simply gray. In actuality it's quite colorful. And if we've learned nothing else this past week and a half, we know there's still lots of work ahead. And, we ALL have work to do."
The Forum's lead editor Heidi Renée Lewis, in concert with the team of co-editors (Aimee Meredith Cox, Heather Laine Talley, Alexis Pauline Gumbs, Hakima Abbas, Tamura A. Lomax, Monica Casper, Omar Ricks, Shubra Sharma, and Aishah Shahidah Simmons), compassionately and lovingly worked together virtually across multiple time zones in the United States and internationally in Africa and South Asia often while simultaneously on the road, teaching, lecturing, mothering, partnering, conferencing, and dealing with unexpected life altering personal, familial, and professional life crises. Just when many wanted to throw in the towel and forgo the conclusion other than say, "That's all folks! Take care," Brooke Elise Axtell, picked up the ball and helped everyone carry it across the finish line.
The power of the compassionate, loving, and selfless TFW Collective can never be denied.
April 24, 2013
Empowering African-American Rape Survivors at Portland State University
The Women's Resource Center, Women of Color Action Team, and the Multicultural Center at Portland State University hosted a screening and discussion of NO! The Rape Documentary on Tuesday, April 23, 2013. Tonya L. Jones, one of the organizers of the event reported that the screening and discussion had a "decent attendance and they received positive reviews on the evaluations."
On April 18, 2013, The Portland State Vanguard published "Empowering Survivors: Documentary N[O]! Screens at Multicultural Center by Megan Fresh," an article about the vision for the screening and discussion. Following is an excerpt:
[Tonya L.] Jones' goal for the program is "that students will walk away reflecting and thinking about how they can be an ally to make all of our communities safer for women of color—for all women period," she said. "Also, hopefully they walk away respecting the voices and experiences of women of color…

Jones described the intersection of sexual assault and African-American communities, providing the context for the event.

Images of black women are often distorted, and we are made into caricatures," she said. "Our bodies and our sexuality tend to be degraded in mainstream media. The stereotypes prevent many people from seeing us as full human beings. Because of this, many people don't take our experiences seriously.

"It affects how people respond to us when we are dealing with sexual assault/violence, in and outside [of] the black community," Jones said. "Hopefully students will think about this and how important is for all of us to reject and resist negative representations of black womanhood…
You may read the article in its entirety by clicking here: bit.ly/11Dxx3o
April 24, 2013
Sarah-Jane Stratford and Aishah Shahidah Simmons Talk about NO!, Sexual Assault, and Ending Rape Culture for Paradigm Shift New York
April 24, 2013 ~ Feminist journalist Sarah-Jane Stratford recently interviewed feminist documentarian Aishah Shahidah Simmons about her award-winning film NO! The Rape Documentary, rape and other forms of sexual violence; and ending rape culture for Paradigm Shift New York a feminist online community whose motto is "Using the F word. Change NYC. Change the World."
…Asked what she thinks is at the root of what's called the current "rape culture," Ms. Simmons says rape remains a weapon of patriarchy, an attempt to "put women in their place. There is a feeling that the traditional male power structure is slipping away and the immediate response to any perceived uprising is always to squash it. There is also still an idea that it's acceptable to denigrate women, reducing them to receptacles rather than people, an idea unfortunately perpetuated in the culture and media. The difference between now and a few decades ago is that women are increasingly not silent about the violence perpetuated against them – be it sexual assault or a battering by a partner…

One issue NO! explores that gets very little traction in the wider discussion of rape is that rape is also a weapon of homophobia.  "There is an attitude expressed by some men that says, 'I'm gonna rape her straight,'" says Ms. Simmons. One survivor in the film, Queen, talks about the threat of her assault and how it came from an attitude of "rape isn't rape if it's to teach black lesbians a lesson." This is especially the case if a woman is masculine identified. "When it comes to lesbians," says Ms. Simmons, "the insistence that she is put in her place is particularly strong. She has to be shown that she is not a man. She is not a peer. She is a woman and thus a receptacle for whatever a man wants from her…
You may read the article in its entirety by clicking on this link: http://bit.ly/11k2pEu
April 24, 2013
Aishah Shahidah Simmons partners with Spelman College's Women's Research and Resource Center's HBCU Fight to end Sexual Violence against Women
On Thursday, April 25, 2013, Aishah Shahidah Simmons will return to Spelman College's campus to present NO! The Rape Documentary and participate in a conversation with representatives from Men Stopping Violence; and Spelman and Morehouse college students focused on addressing and ending sexual assault and violence against women on college campuses. This event, which will be held at 7:00pm in the Cosby Auditorium on the college's campus,  is a part of a series of events happening on at least 10 Historically Black Colleges and Universities. It is free and open to the public. The screening and discussion is hosted by the Spelman College's Women's Research and Resource Center (WRRC), which was founded by Black feminist scholar and activist Dr. Beverly Guy-Sheftall in 1981.  The WRRC has been long-term supporter of NO! from conception to completion and distribution.
For more information, please click on this link: http://bit.ly/117WTEU
April 22, 2013
The Feminist Wire launches a 10-day Forum on Race, Racism, and Anti-Racism within Feminism
April 22, 2013 marks the first day of The Feminist Wire's (TFW) 10-day Forum on Race, Racism, an Anti-Racism within Feminism. Over the next eleven days, TFW will publish essays, love notes and art work as part of a continuation of a decades…in actuality, centuries-long painful, difficult, and yet, very necessary dialogue amongst and between feminists of color and white feminists.  Please visit TFW daily throughout the duration of this Forum (and beyond); and please spread the word to your networks about the Forum.
Following is an extended excerpt from the Introduction, which was coauthored by TFW Editorial Collective members Aishah Shahidah Simmons and Heather Laine Talley.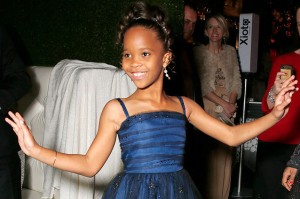 Photo credit: Todd Williamson/Invision for Fox Searchlight/AP
Perhaps in this twenty-four hour news cycle culture, the horrid sexist and racist sexualization of nine-year old Quvenzhané Wallis both at the Academy Awards and in Twittersphere is now old news. And maybe for her sake, it should be.
White feminists' silence in the face of racism is old news too, but feminism's troubled relationship with race and racism is something to keep talking about. It was the reaction to Tressie McMillan's analysis of white feminists' response to the attacks on Quvenzhané Wallis that ignited our interest in hosting this Forum on Race, Racism, and Anti-Racism within Feminism. To be sure, The Feminist Wire has been engaged in these conversations since our founding, but what McMillan's piece noted was the yawning vacuum of public response to misogyny directed at a Black girlchild.
Many white feminists jettisoned the opportunity to think about silence as racism. Instead, they cited examples of white women's response to defend against the critique of white silence. While it is true that some white feminists publicly responded, the very impulse to deny a pattern of silence sidesteps critical feminist and anti-racist work. The legacy of feminism has taught us to ask: in what ways am I oppressed and marginalized? In thinking about race, racism, and anti-racism within feminism, an equally important question is: in what ways do I oppress and marginalize?
We come to this introduction as Collective members, but we have divergent relationships to the very topics we're exploring in this Forum. We are a Black feminist lesbian and a white, anti-racist, queer feminist who are committed to a vision of feminism that is fundamentally intersectional. We resist the pull to participate in the "oppression olympics" (as coined by Native American feminist scholar-activist Andrea Smith) because we firmly believe that none of us are free until all of us are free.
Given white feminists' palpable silences in response both to individual acts of racism and to an enduring pattern of white supremacy, our investment in this project is shaped by a specific ethic–we reject the idea that white women can "opt out" of this conversation or instinctively fall back on defensiveness. If our feminism aims for liberation, the discomfort of doing the work cannot function in the service of sid-stepping this difficult dialogue, avoiding self-reflection, or putting either off until later. Later is now.
Here, we want to make TFW's position abundantly clear: Silence in the face of racism is never justified. In fact, silence in the face of any form of oppression or marginalization is never justified.
And yet, feminist silences are, all too often, racialized. Thus, in the context of talking feminism and race, our relative position to feminism depends upon whether feminism unmodified stands for white women.
…This is an attempt to reexamine race and racism from multiple feminist perspectives. To be sure, this is not a Black-white dialogue. This is not a cisgender dialogue. It is not exclusively academic in nature nor entirely activist in spirit. It is multi-voiced, even as it is not representative. It is a conversation that pre-dates all of us, even as it is a dialogue that is no less important now than in previous iterations of feminism, from the suffragettes exclusion of African-American women to the whiteness of the sex wars, to white feminism's response to and engagement with transnational feminism.
A theme emerges in this Forum–white folks will be called out. And not just because of white silence to recent events, but also because our time is one that is shaped through and through by white supremacy. White privilege may be diluted by class, geography, ability, sexuality, gender identity. And yet, the structural underpinnings of the institutions that inscribe our lives and everyday patterns of seeing and talking are bound together by a legacy of racism, the overvaluation of white bodies at other humans' expense, and policies intended to promote thriving for white folks.
…This Forum is certainly not meant to be the definitive statement on race, racism, and anti-racism within feminism. TFW is committed to cultivating an ongoing dialogue, and so even as we start this Forum, we know that this is only the start of a long-term and potentially difficult conversation, part of which we will continue to publish…"
You may read the introduction in its entirety by clicking on this link: http://bit.ly/ZD0Z9J
February 18, 2013

tiona.m. and Aishah Shahidah Simmons

Aishah Shahidah Simmons, Alexis Pauline Gumbs, Julia Roxanne Wallace

Alexis Pauline Gumbs, Aishah Shahidah Simmons, Darnell L. Moore (VIVA The Feminist Wire Editorial Collective!)

Grace Drums opened Mother Tongue: Monologues (Background photograph: Aishah Shahidah Simmons, Beverly Guy-Sheftall, and Lisa Diane White, with Aaronette Michelle White in the photograph within the photograph)

Grace Drums (Background photograph: Aishah Shahidah Simmons filming the first 10-day vipassana meditation course held in Mumbai, India, for people of African heritage world wide)
Grace Drums

Christina Jaus, Farah Tanis, Mayowa Osebeju, Kalima DeSuze presenting the Honorees with their awards

Aishah Shahidah Simmons, Christina Jaus, co-founder of Black Women's Blueprint, Farah Tanis, co-founder and executive director of Black Women's Blueprint
The powerful award ceremony…

Aishah Shahidah Simmons' extemporaneous (in spite of prepared comments) acceptance speech "It's the community from which you come that you want to name you, claim you and honor you." ~ Toni Cade Bambara (Teacher and Big Sister Friend)

Acceptance speech, which included my paying tribute to my Dad (Michael Simmons) who was the first person who supported my emerging Black lesbian identity when I was a teenager and my Mom (Dr. Gwendolyn Zoharah Simmons) who was the first Black feminist I ever met.

If someone calls you a lesbian and you're not one, don't act as if you've been called a German Shepard….

"It is important that those of us who are able, because many are not, break our silences about our sexual assaults. (When I was 19 years-old) I was raped one night and less than 24-hours had consensual sex with another man and became pregnant. I am fortunate that I was able to have a safe and legal abortion…"
The acceptance speech continues…

Fadzai Mapurutsa's, Coalition of African Lesbians, acceptance speech

tiona.m., Fadzai Mapuratusa, Aishah Shahidah Simmons
Cara Page and Aishah Shahidah Simmons

Orleana Clark, Aishah Shahidah Simmons, Inelle Cox Bagwell, Pat Clark
Thadious Davis and Aishah Shahidah Simmons
Aishah Shahidah Simmons and Darnelle L. Moore

Aishah Shahidah Simmons, Michael Simmons, Linda Carrranza

"Daddy's Girl" Aishah Shahidah Simmons and Michael Simmons
R. Erica Doyle and Aishah Shahidah Simmons

Aishah Shahidah Simmons
Aishah Shahdiah Simmons and Traci C. West
Deepa Soul and Aishah Shahidah Simmons

Aishah Shahidah Simmons and Yvette Assem

Aishah Shahidah Simmons and Asantewaa Nkrumah-Ture

Aishah Shahidah Simmons, Farah Tanis, Julia Roxanne Wallace, Christina Jaus

Farah Tanis, Beverly Guy-Sheftall, Aishah Shahidah Simmons

Aishah Shaidah Simmons and Michael Simmons

Beverly Guy Sheftall and Aishah Shahidah Simmons

Kalima DeSuze, Beverly Guy Sheftall, Farah Tanis, Christina Jaus

Aishah Shahidah Simmons and Kalima DeSuze

Back row: Kwesi Ferebee, Ayanna Serwaa, Jasmine Burnett, Mayowa Osabuju, Farah Tanis, Beverly Guy-Sheftall, tiona.m.,
Front row: Christina Jaus, Kalima DeSuze, Aishah Shahidah Simmons, Porter Ferebee – BLACK WOMENS BLUEPRINT


Museum of Women's Resistance at Black Women's Blueprint
January 25, 2013
Peace X Peace highlights Aishah Shahidah Simmons' work in their January 24, 2013 edition of "Voices from the Frontlines" blog
On Friday, January 24, 2013, Peace X Peace, an international non-profit organization that raises women's voices and builds cultures of peace in over 120 countries worldwide, highlighted Aishah Shahidah Simmons' anti-rape activism in their weekly edition of "Voices from the Frontlines," in a piece entitled, "Saying NO! Is Not a Betrayal."
In the midst of hectic scheduling all around, Peace X Peace staff person Nawal Rajeh and Aishah made time to talk about about a myriad of topics including the origins of NO!, the responses to NO! once it was completed, advice for (heterosexual) men who want to work toward ending rape, and Aishah's hope for the future of the anti-sexual violence movement.
Here's an excerpt,
The idea started in the early 90's Mike Tyson was accused and charged of raping an African American woman. At that point, many African American leaders were enraged that she came forward and accused him. I myself am a survivor, but when I started the process of this film, I didn't think it had anything to do with me. I wanted to help black women break the silence that exists, as it does in so many communities. We don't want to make our community look bad. What that means is we don't want to make men look bad? There's a lot of pressure put on women that come forward because they are viewed as being traitors of black men. I'm looking at the making of NO! with a lot of hindsight. Making NO! saved my life. I can't imagine my life without having made it. I'm not in it, but I am throughout it- through the stories of the other women. It most definitely saved me- it took me through hell and back. The level of my being out about as sexual assault survivor in terms of where I was then and where I am now makes me feel like I have the responsibility to be out about the complexities of sexual assault. One of the main requirements for every survivor featured in NO! was that they would have to be willing to have their face shown and full name displayed on camera. The reason behind this was that I wanted to convey the message that there should be no shame in having been raped. My goal was to inspire and ignite other survivors to come forward. My firm belief is that the shame should be on the perpetrators.
You may read the interview in its entirety by clicking HERE (http://bit.ly/W6z4wV)
January 25, 2013
BlackWomen's Blueprint will honor Aishah Shahidah Simmons, Staceyann Chinn, and the Coalition of African Lesbians on Saturday, February 16, 2013
A Benefit Performance To Support Collaboration And Prevention Programs On Sexual Assault In Communities Of African Descent. Saturday, February 16, 2013
The Schomburg Center for Research in Black Culture
515 Malcolm X Boulevard
New York, NY 10037
Tickets $25/$35/$50

http://www.mothertonguemonologues.org/

HONOREES:
AISHAH SHAHIDAH SIMMONS, Black Lesbian Feminist, Filmmaker & Activist

STACEYANN CHIN, Spoken Word Poet, Performing Artist and LGBT Rights Political Activist

THE COALITION OF AFRICAN LESBIANS, human rights defenders representing 11 countries in Africa.

Conceived By Farah Tanis
Co-Founder, Black Women's Blueprint | Founder, Museum of Women's Resistance

Event Co-Chairs:
DR. BEVERLY GUY SHEFTALL, Ph.D., Founding Director of the Women's Research and Resource Center and the Anna Julia Cooper Professor of Women's Studies, Spelman College.

DEEPA SOUL, Chairwoman/CEO of LARA (The LGBT Academy of Recording Arts)

DR. ALEXIS PAULINE GUMBS, Ph.D., Queer Black Feminist Media Activist, Founder, Eternal Summer of the Black Feminist .

TIONA MCCLODDEN, Award Winning Filmmaker, Artist, Executive Producer/Director, Harriet's Gun Media

JAWOLE WILLA JO ZOLLAR, Award Winning Choreographer, Founder, Urban Bush Women

DIRECTORS
Lori Payne and Pope Jackson
January 25, 2013
Monica J. Casper and Aishah Shahidah Simmons on Abortion, Feminism, Family, Shame, Love, Friendship, and the Way Forward on the 40th Anniversary
of Roe v. Wade
[Over a two-day period, The Feminist Wire Collective Members Aishah Shahidah Simmons and Monica J. Casper shared an e-dialogue about abortion, feminism, family, shame, love, friendship, and the way forward. Here is the largely unedited transcript of their exchange, shared publicly in recognition of the 40th anniversary of Roe v. Wade.--TFW Editors]
January 22, 2013 was the 40th Anniversary of Roe v. Wade. It was also my first day of teaching the graduate/undergraduate seminar entitled, Audre Lorde: The Life and Work of a Silence Breaker. In the tradition of both of the aforementioned, I wasthrilled to honor my commitment to consistently break my silence and release my shame. I am grateful that my Sister-Comrade, Monica Casper invited me to have this e-dialogue with her. Here's an excerpt of what I shared and Monica's response during our deeply intimate dialogue, which womanifests the saying "the personal is political":

Aishah: "… All of this is happening as I very literally prepare to teach this seminar on Lorde's life, in the 20th anniversary year of the completion of my first short video Silence…Broken, which was created in a Toni Cade Bambara scriptwriting workshop at Scribe Video Center. And, it is dedicated to the life and work of Audre Lorde… (I firmly believe that) NONE OF THIS would have happened or would be going on had I not been able to have an abortion…I should also share that my rape followed by consensual sex with another man happened while on a study abroad program in my sophomore year in college. I was so distraught about everything, which was rooted in my trauma and underscored by my internalized homophobia…I felt as if I couldn't breathe…My making the decision to drop out of college shortly after the rape/sex/pregnancy/abortion, which was followed by my coming out as a lesbian one year later, enabled me to forge ahead with my then unknown trajectory…
I'm thinking about so much shame that I've carried connected to my rape, consensual sex, pregnancy, abortion, dropping out of college…It's very intense in the context of developing a syllabus about breaking silences IN SPITE OF the fear….
…I often wonder if I did carry my pregnancy to term, would I have come out as a PROUD Black feminist lesbian or would I've been afraid and concerned about what that would mean for the unborn? Would I have made NO! The Rape Documentary? …. Who knows? Even if the answers are yes, what I know is that it wouldn't be what it is today….
These are the stories and dialogues that we don't get to have because we're so busy fighting the surge of the Right Wing to take away all of our reproductive rights. We often don't get to hear the nuances, the complexities, the back stories…For many on the rabid (my words) Right, it's as if women are incubators for fetuses and receptacle for (unwanted) penises…."
Monica: One of my very best therapists ever, in San Francisco, was writing her dissertation on shame. She had this gorgeous argument about how shame was such a driving force for so many of us, both in what we do and what we don't do. Heather [Talley] and I have talked about writing a piece together on the neoliberal university and its strategies of shame, disavowal, and retribution…and those three words resonate so well not just with neoliberalism run amok in higher ed, but also in patriarchy. Women are repeatedly and often quite violently shamed, disavowed, and made to serve retribution…this is written in our bones, our uteruses, our psyches.
Not being ashamed seems like such a gift to self. Living, writing, teaching away the shame…
xoxo