May 12, 2013
Aishah Shahidah Simmons' Mother's Day Tribute to the Phenomenal Legacies of her two Nanas for The Feminist Wire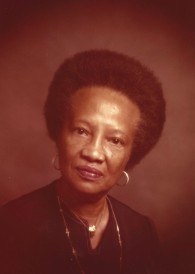 Nana (Rebecca White Simmons Chapman)
Too often, we do not celebrate the extraordinary individuals who, because of their race, gender, and/or socio-economic standing, lived what appeared to be ordinary lives. This year, I am paying homage to my paternal and maternal grandmothers' lives and legacies. I proudly stand upon the shoulders of my Nanas—Mrs. Rebecca White Simmons Chapman and Mrs. Juanita Cranford Robinson Watson—whose lives were remarkable.
My grandmothers grew up in abject poverty in Rock Hill, South Carolina and Memphis, Tennessee. Nana Chapman was the third of four children born to Jack White, Sr., and Maggie Pagan White. When she left school in the fourth grade to financially support her family by working as a domestic cleaning white people's homes, she was forced to abandon her dream of becoming a nurse. Alone with limited financial means as a domestic laborer in the 1930s, she moved from South Carolina to Philadelphia, Pennsylvania when she was 12 years old. Nana Watson's formative years were also quite challenging. She was the 9th child of 10 children born to Mattie Garrett Cranford and Henderson Cranford. She was orphaned early, losing both of her parents as a very young child. Both her paternal grandmother Mrs. Francis Macklin, and paternal aunt, Mrs. Florence Cranford, raised her and her siblings. Nana Watson was an excellent student who completed the 11th grade during the Great Depression. Never overzealous with their Christian faith, Nanas Chapman and Watson were active and engaged members in their churches—Jones Tabernacle African Methodist Episcopal Church and Pilgrim Rest Missionary Baptist Church, respectively. Neither woman subscribed to the belief in a vengeful God who would bring His wrath upon those who didn't follow (human interpretations of) His will. Nana Chapman always taught and believed that "good deeds are their own rewards."
During World War II, Nana Chapman worked at the Budd Automotive Company, then subsequently began working at Sichek Clothing factory in Philadelphia, where she quickly rose to floor manager. Throughout her tenure at Sichek, she was an active union member and a shop steward.
During that same period, Nana Watson became a pioneer by breaking the virulently racist Jim Crow color line by becoming the first African-American woman to write laundry tickets for Memphis Steam Laundry and Cleaners. Prior to her, no African-American women worked in this position because it required collecting money from and interacting with white customers during a time when racial segregation was strictly enforced. This type of work was reserved for white women. African Americans, nevertheless, endured and resisted this U.S.-sanctioned domestic terrorism.
Nana Watson valiantly persevered despite the racism that I can barely imagine, much less stomach, that she endured from most of the white women customers who didn't want to accept laundry tickets from a "Colored Woman." While it was not her intention, she was a trailblazer who broke ground in this field and paved the way for those African-American women who followed her.
With the first African-American President of the United States in his second term, many will probably not view Nana Watson pioneering job as an extraordinary act. However, one need only talk to the surviving elders from her generation and earlier to learn first hand about the horrid impact of the brutal, state and locally inhumane, racist and sexist Jim Crow laws. These were the laws of the Confederate states from 1876 to 1965. Some of the many seminal award-winning works that document a plethora of historical accounts of the era include: Tera Hunter's To 'Joy My Freedom: Southern Black Women's Lives and Labors after the Civil War, Paula Giddings Ida: A Sword Among Lions: Ida B. Wells and the Campaign Against Lynching, Barbara Ransby's Ella Baker and the Black Freedom Movement: A Radical Democratic Vision, Danielle Maguire's At the Dark End of the Street: Black Women, Rape, and Resistance–A New History of the Civil Rights Movement from Rosa Parks to the Rise of Black Power, Taylor Branch's Parting the Waters: America in the King Years: 1954-1963, the Hands on the Freedom Plow:Personal Accounts by Women in SNCC anthology; Blackside's PBS television series Eyes on the Prize, and Duke University's Beyond the Veil: African-American Life in the Jim Crow South. These are a few thoroughly documented references that underscore what Nana and all African-Americans experienced daily during Jim Crow reign. Being the first African American in any type of employment that was his/herstorically reserved for white women and men was no small feat.
And yet, there was no fanfare for the pioneering work of Nana Watson and Nana Chapman primarily because we live in a classist society and the work of laborers, most especially Black women laborers is not valued or respected. They, like so many African-American women of their generation, were unsung and very quiet extraordinary sheroes.
Challenging the racial and gender stereotypes of the 1950s and 60s, Nana Chapman demanded that all strata of society respect her and her family. She was committed to supporting African-American health care professionals, attorneys and other business people throughout her life. She was particularly proud that her two sons' first doctor was an African-American woman.
In 1962, Nana Chapman was diagnosed with multiple myeloma and was given five years to live. She wasn't daunted by the prognosis. With her faith in God, along with the unlimited emotional, psychic, and financial support of her second husband, Willie L. Chapman, my grandfather, Nana outlived this diagnosis by 39-years. Over a 30-year span, the illness caused her to be hospitalized on average of every 18-months. She was exposed to an inordinate amount of radiation, which made her bones too brittle to be exposed to extended sunlight; and she was often in excruciating pain. In spite of these major impediments, Nana insisted on and lived a normal life.
In the 1970s, Nana Watson and her second husband, Reverend Granville Watson, established their own cleaning business, which provided quality janitorial services for Hobson-Kerns Realty for many years. After her divorce, Nana continued providing cleaning services for this and other companies for decades until her retirement at the age of 80.
Both Nanas Chapman and Watson were hard workers who held life long desires and quests for knowledge. They were avid readers with homes filled with books, magazines, and newspapers. Neither woman defined herself in terms of education or paid work. Rather, each saw her quality of life determined by what kind of sister, wife, mother, grandmother, and friend she was to those she loved.
Long before I had ever heard of and encountered my teacher, mentor, and big sister friend Toni Cade Bambara, Nana Chapman was my teacher and mentor. Until I was 21-years in this journey called life, there was hardly anything that I could not share with her. With the exception of one big secret, I talked to her about almost everything –religion and spirituality, reproductive freedom, politics, my queer sexuality, education, and friendships with my peers. Her home was my second home. During my turbulent pre-teen and teenage years, Nana and I would talk on the phone almost daily for hours at a time. She was my "Nana Banana" and I was her "Apple Pie." I never felt like she didn't have time for my issues, concerns, thoughts, ideas, and/or fears. For many years she was literally my emotional and psychic lifeline. She never used the words "Black feminist" to describe herself, but she played a major role in teaching me Black feminist principles. She always made it explicitly clear that there were no limits to any goals that a woman sought to achieve. She would always tell me, "There's no such thing as 'can't,' Pie." These conversations played a pivotal role on my current quest to write about and document the struggles of African-American women and other women of color. With a fourth grade education and a PhD. in life experience, she was my intellectual adviser, my trusted confidante, sought after consultant, and my friend.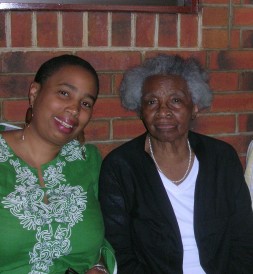 Aishah & Nana (Juanita Cranford Robinson Watson)
I will not be a revisionist and say that Nana Watson and I were extremely close because we were not. There was deep love and affection shared between us. However, very unfortunately, with the exception of one-year when she came to live with my mother (Dr. Gwendolyn Zoharah Simmons) and I during my adolescence, we never lived geographically close to each other. Over the years our relationship was really relegated to phone calls and brief visits over holidays or during birthdays. And yet, she always traveled to Philadelphia to attend major milestone events in the lives of her daughter and granddaughter. While she didn't think that rape was something to be discussed in public or even private, Nana made several financial contributions, which supported the making of my film NO! The Rape Documentary.
Nana had a will power that would not be denied. When she set her mind on something, there really wasn't anything that you could do to change it. Even if she changed her mind, it was not because someone forced her to do so. As her health declined over the years, she was not aware that she could no longer fully take care of herself. In her mind's eye, she was still the same Mrs. Juanita Watson she had always been, just slightly older. I write this because it is difficult to come to grips with the fact that someone who has taken care of you is in need of care. It is often hard to face the sobering aging process. Additionally, it is very challenging to do this work when our aging loved ones don't believe they are in need of care.
Both of my grandmothers died in the Chinese Astrology year of the snake in 2001 and 2013, respectively. I am moved that they died within a 12-year cycle. I don't know what the timing all means. I know that being with both of them in their deaths transformed me as much as knowing them when they were physically alive.
I was alone with Nana Chapman during the last three days of her life in 2001. She beat cancer, but not Alzheimer's disease. I rubbed her body, combed her hair, played African-American spirituals and gospel music in rotation, and called upon her ancestors to welcome her. She wasn't conscious, and yet, she was present. Recognizing that the end of her human form was imminent, I found my voice to share with her the one secret that I kept from her for over 20 years because of spoken loyalty to my parents and unspoken loyalty to my grandfather. I was molested over a period of two years. I don't know what she absorbed, if anything, during my highly emotional disclosure. What I know is that a shift happened within me, and my incest burden was slightly lighter. I wasn't with her when she transitioned from this realm to the next. I left five hours before her last breath. At that time, I didn't have a full understanding of the process of dying nor did I have a grasp that she was departing. I told myself that I would return to the hospital the next day. Knowing what I know now, I firmly believe that I was afraid to witness her death. I knew she transitioned somewhere between 4:00am – 5:00am on December 22, 2001 because I was awakened by an unexplained loving presence in my bedroom. I knew it was her presence. She was no longer here in the physical form. When I received the call several hours later, I said to my dad (Michael Simmons), "I know. Nana has passed on."
Now here I am;

and there I am;

and all I am;

Free to be anywhere at all in the Universe.
The experience of being so close and yet, missing her transition sent me on a spiritual quest, which ultimately led me to my practice of vipassana meditation –an invaluable and non-negotiable anchor on my life's journey.
Only one month ago, I arrived in Memphis during the last 26-hours of Nana Watson's life. During those sacred hours, I came face to face with the fact that I missed so much with my maternal grandmother. Simultaneously, I also realized that it was not a time for guilt, but a time to support and witness the final stages of her transition into the next realm. I was by her side in deep prayer in her religious (Christian) tradition and in deep meditation in my spiritual tradition. Unlike in 2001 when I was with Nana Chapman, I came prepared to be completely present during Nana Watson's transition. She was no longer conscious, but I felt her presence. I rubbed and massaged her body and called upon her ancestors to welcome her into the next realm. I shared and reflected upon many things that I'm not comfortable sharing in this article. I practiced Mett? meditation. I played what was perhaps a continuous stream of African-American spirituals and gospel. She made her transition at 4:00AM on April 6, 2013. The song that was playing around the time of her transition was Sweet Honey in the Rock's "Come by Here"— arranged by Dr. Bernice Johnson Reagon. I sat and stood prayerfully and meditatively in silence with Nana Watson's body while being acutely aware of the universal law of impermanence.
And again, I hear Toni Cade Bambara's words:
Now here I am;

and there I am;

and all I am;

Free to be anywhere at all in the Universe.
About 45-minutes to an hour after her transition, the Hospice nurse, my mother, and I bathed Nana's body before the undertaker arrived. It was an incredible ritual. During the bathing, I saw an 89-year old version of my own body. I am flesh of her flesh and womb of her womb in this lifetime.
I am grateful that Nana Watson entrusted me with the profound gift to support her crossing over and witness her final hours in the physical form. This gift has left an indelible imprint on me. I am forever changed.
In life and in death, Rebecca White Simmons Chapman and Juanita Cranford Robinson Watson have directly and indirectly impacted my journey called life. I inherited and now walk with their Black feminist warrior legacies
I close with an excerpt of Dr. Delores S. Williams' timeless words featured in Dr. Gloria Wade-Gayles' edited anthology My Soul Is a Witness: African-American Women's Spirituality:
"…Whenever I reflect upon the sources of my spirituality as a Black woman, I think of love, struggle, work, self-sight, justice, and celebration taught to me by so many Black voices, most of them female. For this I continue to be deeply grateful. For this I celebrate the very force of Life itself."[1]
May Nana Chapman and Nana Watson be peaceful, happy, and fully liberated.
Sadhu. Asé. A(wo)men. Ameen.
---
[1] Delores S. Williams' "Sources of Black Female Spirituality: The Ways of 'the Old Folks' and 'Women Writers,'" in My Soul Is a Witness: African-American Women's Spirituality, ed. Gloria Wade-Gayles, p. 191
March 25, 2013
PRESENTE Toni Cade Bambara March 25, 1939 – December 9, 1995.
Remembering and Celebrating the Life and Legacy of Black Feminist Writer, Teacher, Organizer, Mother, Filmmaker, Cultural Worker Extraordinaire on the 74th Anniversary of her birth.
(Toni and Aishah Shahidah Simmons in October 1994 at the Hatch-Billops Collection in New York, photo ~ Michael Simmons)
"The task of the artist is determined always by the status and process and agenda of the community that it already serves. If you're an artist who identifies with, who springs from, who is serviced by or drafted by a bourgeois capitalist class then that's the kind of writing you do. Then your job is to maintain status quo, to celebrate exploitation or to guise it in some lovely, romantic way. That's your job. If you're a writer in Cuba, postrevolutionary Cuba, your job is to celebrate the triumph of the national will. If you're a writer coming out of Kenya, the postindependent era in Kenya, your job is relaly to critique the failure of class struggle in Kenya and to tell the truth and to try and share a vision of what that society should be like if they're gonna really liberate themselves.
As a cultural worker who belongs to an oppressed people my job is to make revolution irresistible. One of the ways I attempt to do that is by celebrating those victories within the [B]lack community. And I think the mere fact that we're still breathing is a cuase for celebration. Also, my job is to critique the reactionary behavior within the community and to keep certain kinds of calls out there: the children, our responsibility of children, our responsibility to maintain some kind of continuity from the past. But I think for any artist your job is determined by the community you're identifying with.
But in this country (US) we're not encourage and equipped at any particular time to view things that way. And so the artwork or the art practice that sells a capitalist ideology is considered art and anything that deviates from that is considered political propagandist, polemical or didactic, strange, weird, subversive, or ugly." ~ Toni Cade Bambara interviewed by Kay Bonetti, 1982
February 18, 2013
CELEBRATING the 79th Anniversary of the birth of Black Feminist Lesbian Mother Warrior Poet Audre Lorde (February 18, 1934 – November 17, 1992)
"Those of us who stand outside the circle of this society's definition of acceptable women; those of us who have been forged in the crucibles of difference – those of us who are poor, who are lesbians, who are Black, who are older – know that survival is not an academic skill. It is learning how to stand alone, unpopular and sometimes reviled, and how to make common cause with those others identified as outside the structures in order to define and seek a world in which we can all flourish. It is learning how to take our differences and make them strengths."- Audre Lorde, Sister Outsider
January 25, 2013
Monica J. Casper and Aishah Shahidah Simmons on Abortion, Feminism, Family, Shame, Love, Friendship, and the Way Forward on the 40th Anniversary
of Roe v. Wade
[Over a two-day period, The Feminist Wire Collective Members Aishah Shahidah Simmons and Monica J. Casper shared an e-dialogue about abortion, feminism, family, shame, love, friendship, and the way forward. Here is the largely unedited transcript of their exchange, shared publicly in recognition of the 40th anniversary of Roe v. Wade.--TFW Editors]
January 22, 2013 was the 40th Anniversary of Roe v. Wade. It was also my first day of teaching the graduate/undergraduate seminar entitled, Audre Lorde: The Life and Work of a Silence Breaker. In the tradition of both of the aforementioned, I wasthrilled to honor my commitment to consistently break my silence and release my shame. I am grateful that my Sister-Comrade, Monica Casper invited me to have this e-dialogue with her. Here's an excerpt of what I shared and Monica's response during our deeply intimate dialogue, which womanifests the saying "the personal is political":

Aishah: "… All of this is happening as I very literally prepare to teach this seminar on Lorde's life, in the 20th anniversary year of the completion of my first short video Silence…Broken, which was created in a Toni Cade Bambara scriptwriting workshop at Scribe Video Center. And, it is dedicated to the life and work of Audre Lorde… (I firmly believe that) NONE OF THIS would have happened or would be going on had I not been able to have an abortion…I should also share that my rape followed by consensual sex with another man happened while on a study abroad program in my sophomore year in college. I was so distraught about everything, which was rooted in my trauma and underscored by my internalized homophobia…I felt as if I couldn't breathe…My making the decision to drop out of college shortly after the rape/sex/pregnancy/abortion, which was followed by my coming out as a lesbian one year later, enabled me to forge ahead with my then unknown trajectory…
I'm thinking about so much shame that I've carried connected to my rape, consensual sex, pregnancy, abortion, dropping out of college…It's very intense in the context of developing a syllabus about breaking silences IN SPITE OF the fear….
…I often wonder if I did carry my pregnancy to term, would I have come out as a PROUD Black feminist lesbian or would I've been afraid and concerned about what that would mean for the unborn? Would I have made NO! The Rape Documentary? …. Who knows? Even if the answers are yes, what I know is that it wouldn't be what it is today….
These are the stories and dialogues that we don't get to have because we're so busy fighting the surge of the Right Wing to take away all of our reproductive rights. We often don't get to hear the nuances, the complexities, the back stories…For many on the rabid (my words) Right, it's as if women are incubators for fetuses and receptacle for (unwanted) penises…."
Monica: One of my very best therapists ever, in San Francisco, was writing her dissertation on shame. She had this gorgeous argument about how shame was such a driving force for so many of us, both in what we do and what we don't do. Heather [Talley] and I have talked about writing a piece together on the neoliberal university and its strategies of shame, disavowal, and retribution…and those three words resonate so well not just with neoliberalism run amok in higher ed, but also in patriarchy. Women are repeatedly and often quite violently shamed, disavowed, and made to serve retribution…this is written in our bones, our uteruses, our psyches.
Not being ashamed seems like such a gift to self. Living, writing, teaching away the shame…
xoxo
December 15, 2012
Iowa Coalition Against Sexual Assault (IowaCASA) purchases 30 copies each of NO!, Breaking Silences, and Unveiling the Silence
I remember *all* of the funders, public and major cable television networks who questioned if NO! would be relevant and/or useful to people in "Middle America" since the film *only* focused on Black women, sexual violence, and healing as if our (Black women's) survivor testimonies and healing can't speak to this universal global atrocity. In spite of the the naysayers,  there are numerous examples of NO! and her supplemental materials resonating with thousands of diverse people across the United States, Canada, and in countries in Europe, Africa, Asia, The Pacific Islands, South America and the Caribbean.
Most recently, the Iowa Coalition Against Sexual Assault purchased thirty (30) copies each of NO! The Rape Documentary, Breaking Silences (Supplemental Video to NO!), and the NO! Study Guide. Each set will be distributed to Sexual Assault Crisis Centers across the state of Iowa.
October 20, 2012
Celebrating the life and legacy of Aaronette M. White, a radical Pan African Feminist Scholar and Activist in Atlanta on October 27, 2012
It is hard to believe that beloved Daughter/Sister/Friend/Comrade/Scholar/Teacher Activist Aaronette M. White, Ph.D. is no longer with us in the physical realm. Those who knew and were close to her are frequently reminded in myriad of ways that she is with us in the spiritual realm.
If you have not had the privilege of knowing Aaronette or encountering her radically fierce legacy,  Aishah Shahidah Simmons wrote a personal remembrance, for The Feminist Wire, which celebrated Aaronette's indelible imprint on many throughout the world. Here is the link to "Remember and Celebrating the Life and Legacy of Aaronette M. White" ~
http://thefeministwire.com/2012/08/remembering-and-celebrating-the-life-and-legacy-of-aaronette-m-white/
August 22, 2012
Remembering and Celebrating the Life and Legacy of Aaronette M. White
Originally published on The Feminist Wire on August 18, 2012
by Aishah Shahidah Simmons
It is with deep sadness and profound devastation that I share that radical Black/Pan-African feminist activist and social psychologist Aaronette M. White, Ph.D., recently made her physical transition. While there is presently uncertainty about the exact date and time of her sudden death, no foul play or harm was done to her in the last hours of her life. Her body was found in her apartment on Tuesday, August 14, 2012. The belief is that she suffered an aneurysm. She was 51-years old.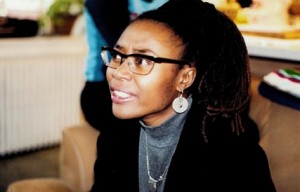 Aaronette was one of my dear and close friends who was also a trusted confidante. I first met her in September 1996 at the Black, Male & Feminist/Womanist conference, which was organized by Black Men for the Eradication of Sexism, a student group at Morehouse College. At that point, I was barely in year two of the twelve-year journey to make my feature-length film NO! The Rape Documentary. Thanks to radical, trailblazing Black feminist scholar-activist, and Big Sister-friend Beverly Guy-Sheftall, Ph.D., who is the founding director of Spelman College's Women's Research and Resource Center and their Anna Julia Cooper Professor of Women's Studies, I was invited to be a presenter at the conference. In remembering that historic gathering, Beverly wrote,
[…]Though not many of us were at Morehouse in 1996 (bell hooks was also there as the keynote speaker), it was a critical moment in the development of a young cohort of brothers who claimed unapologetically their allegiance to [B]lack feminists and FEMINISM!!!!
It was a powerful moment in which some friendships, camaraderies, and allegiances were formed and are still going strong today.
When Aaronette heard that I was making a film about intra-racial rape, other forms of sexual violence, and healing in the Black community, she immediately came up to me at the conference to ask how could she be involved with this project. Shortly after my return home, she sent me a package, which included a donation towards the making of NO!, her curriculum vitae, extensive resources directly related to her ground breaking research and scholarship on anti-rape activism in the Black community. The package also included a letter offering to be involved, for free, in any way possible. This past June, we laughed hysterically during one of our many Sister-friend marathon phone conversations remembering her first mailing to me. Little did she know at the time of sending me her very extensive package in 1996, I was desperate for any and all assistance and expertise in support of the making of NO!. Aaronette literally thought she had to convince me that she would be a wonderful resource for the project. Shortly after receipt of her first of many packages over the years, she became one of the five Black feminist scholar-activist advisors[1] to NO!. Equally as important, Aaronette, was a featured interviewee who shared both her testimony as a survivor of rape; and her scholar-activism on sexual violence on camera. Without expecting anything in return, Aaronette worked tirelessly in support of NO! always looking for ways for me to secure funds to help me cross the finish line; and to spread the word about the making of the documentary. She most generously gave her time both as a scholar-activist and also as one of the consistent trusted shoulders upon which I leaned for ten out of the twelve years it took for me to make NO!.
Aaronette's activism, scholarship, and writings were frequently ahead of the curve. She constantly championed unsung warrior feminist women who were predominantly of African descent. However, she celebrated the resiliency and (sometimes armed) resistance of all women she defined as freedom fighters.
At the time of her untimely death, Aaronette was working on at least two book projects. One co-edited project with her dear friend and pro-feminist scholar-activist Gary L. Lemons, Ph.D., which is tentatively titled Black Feminist and Womanist Pedagogies: When the Personal is Political and Academic. Based upon my understanding from Aaronette, this book project is an edited collection of previously published and original essays by Black feminist and womanist scholar-activists on their experiences and lessons learned from teaching radical pedagogies in what I personally call the Academic Industrial Complex. I was thrilled when she asked me to write an essay about my experiences teaching an undergraduate course on Diasporic African women filmmakers when I was an Artist-in-Residence at the University of Chicago's Center for the Study of Race, Politics, and Culture.
The other project, which I believe was presently untitled at the time of her death, was envisioned to be an in-depth comparative study, based upon her first-person interviews with African women war veterans who fought in Ethiopia's 17-year civil war; in South Africa's armed wing of the anti-Apartheid struggle; and in the Rwandan army to end the 1994 genocide. Aaronette was concerned that we very rarely, if ever, heard from the voices of African women freedom fighters. Often, while fighting in their countries, many (but definitely not all) of these women warriors were raped by their own male comrades with whom they were fighting. She was also interested in exploring what happened to these African women war veterans after the wars ended. She wanted to know how they were received and treated in their countries. In a Pan-African context, she wanted to lift up their testimonies to add her voice, research, and writings to the growing chorus of diasporic African feminists who challenge the sexist notion that revolution is something that only men wage.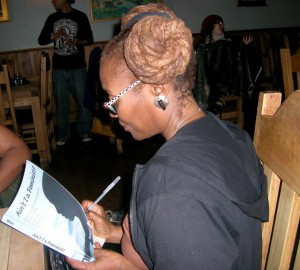 Aaronette's first book, Ain't I A Feminist? African American Men Speak Out on Fatherhood, Friendship, Forgiveness, and Freedom (S.U.N.Y. Press, 2008) examined the experiences of African-American men who self identify as feminists. Aaronette's process with identifying each of the (anonymously) featured men required a personal recommendation from a Black (woman) feminist. Her belief was that it was not enough for a man to believe he was a feminist, she needed to also hear from at least one, but preferably more than one Black feminist to confirm that this was the case. Her second book African Americans Doing Feminism: Putting Theory into Everyday Practice (S.U.N.Y. Press, 2010), is an edited collection of personal stories and testimonials about how feminism has influenced the lives of feminist African-American women and men.
Aaronette lived her life out loud and without apology for her bold, take no prisoners radical feminism. She didn't suffer fools wisely. The few times we were able to present NO! The Rape Documentary together, she was adamant that the first three questions or comments, immediately post the screening of the film, were from survivors of child sexual abuse and/or sexual violence. She wanted to make sure the voices of survivors were centralized and heard first and foremost. If she thought a person (man or woman) was trying to condone rape especially in the name of playing "devil's advocate," she would shut the conversation down immediately. She always did everything that she could to ensure that survivors felt safe and supported, most especially at NO! events where she was present.
A true global citizen, Aaronette became an integral part of the communities she lived in the several countries she called home.


The last time I saw her was in March 2012 when I was in Berkeley, California for a two-day symposium on Gendered Violence Against African American Girls and Young Women, which was hosted by the Thelton E. Henderson Center for Social Justice at University of California, Berkeley School of Law. At the end of the symposium, Aaronette drove up from Santa Cruz and we spent most of one day together. While we were frequently in touch through our marathon phone conversations, we hadn't seen each other since April 2008. It was a Sister-friend reunion of the highest order. We ate lots of good, organic vegetarian food. And, we laughed so much until we cried tears of joy about being together in person. I will always cherish that time. Recognizing that NO! is a documentary, which very unfortunately is still relevant, we envisioned an opportunity where we might be able to bring all of the survivors, scholars, activists, and/or cultural workers featured in NO!, and the key production and post-production personnel who made NO! for both a screening and public dialogue about all of the issues raised in the film and how it relates to where we are today as a non-monolithic community. Aaronette and I weren't sure if it should be a one-day or two-day event. We talked about ideas for the location and potential funders who might be interested in supporting this vision.
This summer Aaronette received an endowed chair at University of California, Santa Cruz where she was on the faculty in the psychology department. We were rejoicing because while she was always fortunate to receive some of the most prestigious fellowships for her unapologetically radical work, this was the first time where she felt like would be able to exhale completely. She was in the process of purchasing a condo on (or near the ocean) in Santa Cruz. In fact, she was going to close within the next week or two. And, true to form, Aaronette was strategizing how to support her Sister-friends whose work she believed in and supported. When I casually shared with her that I was scheduled to present at the National Women's Studies Association (NWSA) annual meeting this November but shared that I had no idea how I would be able finance the trip, she immediately said,
Oh, that's simple. I'll bring you out to screen and discuss NO! at U.C. Santa Cruz. You'll receive your full honorarium; and then we'll go to NWSA together. Problem solved, Gurl, PROBLEM SOLVED! These are the things I can do now that I have an endowed chair. What better way to use these funds than to talk and educate about Black women and rape.
I first received word about Aaronette's death on August 15, 2012 from scholar-activist and friend Tamara K. Nopper, Ph.D. Tamara assumed I knew and sent me an email to offer her deeply felt condolences and to thank me for helping to "get [Aaronette's] story and analysis out there (through NO!)." When I read Tamara's email, I was in a remote part of Marshall, CA attending a Ms. Foundation for Women sponsored and hosted gathering for invited predominantly women of color and gender queer of color activist-leaders who work on ending child sexual abuse. My cell signal was practically non-existent and internet was not readily accessible at the venue where the gathering was held. I thought there had to be a major mistake. I talked to Aaronette at the end of June, right before I departed for my 35-days off of the grid journey to deepen my 10-year practice of vipassana meditation as taught by S.N. Goenka. We were going to talk when I returned in August. I was going to see her in her new home in November. She wasn't sick. I had to immediately find a computer with consistent access to the internet. I had to google her name to prove that Tamara made a major mistake. There must've been another Aaronette White who transitioned. Much to my horror, Tamara was right. I saw the article, with her photograph, posted on U.C. Santa Cruz's site.
I am grateful that I was at the Ms. gathering of activist-leaders who work on ending child sexual abuse when I received the (still) shocking news in the form of a heartfelt email from Tamara. While some of the people "knew" Aaronette through her powerful presence in NO!, no one in attendance at the gathering knew her personally. In spite of this we held her name, her life, and her transformative Black feminist legacy up. It was a powerful sacred circle of radical women and transpeople who "spoke her name" and celebrated her contributions to making this world a more just, compassionate, and humane place for all its inhabitants during her lifetime.
While still in California, my friend Cornelius Moore, who's the co-director of California Newsreel (co-distributor of NO!, with AfroLez® Productions), and I spoke Aaronette White's name over dinner, through some of the night, and in the morning on my way to the airport home to Philadelphia. He, along with one of her four sisters and best friends Lisa Diane White, who's the director of programs for SisterLove, Inc., were some of the last people I personally know who spent extended time with Aaronette in July. It was heartwarming to be able to hear poignant and funny stories from both Lisa and Cornelius about Aaronette during what became the last month of her life. The wound from this tremendous loss is very deep and still festering for all of us who knew and loved her. I'm grateful for the community sharing in person, on the phone, and in cyberspace in my first 24-hours of living knowing that I will never see, talk to, cry with, laugh with, celebrate with, and confidentially share with Aaronette Michelle White.
In an August 16, 2012 Facebook post remembering Aaronette, my sister-survivor, dear friend, and poet extraordinaire Honorée Fanonne Jeffers who is one of the three featured poets[2] in NO! wrote,
Aaronette and I were young women, only in our thirties, when we met during a magical weekend in Philadelphia. We had been calledd–"called" is the only word I can think of-by Aishah Shahidah Simmons to appear in the film NO! The Rape Documentary. We had been called to tell our stories as Black women rape survivors. We had been called to break our silence and dispel our shame. We had been called to love each other and accept each other, not to roll our eyes and pick apart each other's appearances and take out our pain on each other.
I always remember the night Aaronette and I spent talking, her warmth and the way she pulled in others with that warmth. I remember thinking, "THIS woman is a rape survivor?! How can this be? She is so happy and so stylish and so full of good self-awareness." Meeting Aaronette and spending that weekend with her, Aishah, Salamishah Tillet and others was the beginning of my finding and loving myself…
That weekend was a healing, the beginning of my lifelong journey to embrace self-acceptance, self-love, love for others, and spirituality. I can say with all that is in me that if it hadn't been for that weekend, I would not be the poet and the woman I am today, and I would not have the happiness and peace I have found within. Aaronette and Aishah were the first Black women of my age (that I didn't grow up with) who gave me unconditional acceptance. Who made me feel safe, even in the middle of the horrific experience of sharing my story as a rape survivor on film, breaking my silence, and putting aside shame and trauma in order to help other women. In order to help myself…
Echoing Honorée, Beverly [Guy-Sheftall] also captured the sentiments of many who knew Aaronette when she wrote,
[…]Though I didn't see [Aaronette] enough, she was always on my mind when I thought about the [B]lack feminist community that all of us were able to craft over the years–her smile, her spirit, her wisdom, her productivity, and so much more…
I rejoice knowing that Aaronette's legacy will live on through all of the lives she personally touched; her radical Black feminist activism, which centralized margins; and her published writings. I am eternally grateful for her powerful presence in NO! and in Breaking Silences. I am also holding on to the vision that one day in the not too distant future, my and Aaronette's vision of all of the NO! interviewees, performers, and production crew coming together for private sharing, public screening and dialogues. It will womanifest in Aaronette's name.
VIVA the life, legacy, fierce, and unapologetic RADICAL BLACK FEMINIST SPIRIT of daughter, sister, friend, comrade, activist, scholar, and teacher Aaronette Michelle White. I will honor her legacy as long as there is conscious breath in my body.
April 27, 2012
Aishah Shahidah Simmons and NO! The Rape Documentary featured in FORBESWOMAN article, by Brooke Axtell, on Black Women and Sexual Assault
On April 25, 2012, FORBESWOMAN published Brooke Axtell's "Black Women, Sexual Assault, and the Art of Resistance" article. Axtell is the creator of SHE: Survivor, Healing & Empowerment, which is "a healing community for survivors of rape, abuse and sex trafficking, as well as their allies." So, it comes as no surprise that she would write an article exploring the specific challenges facing Black women survivors of rape and sexual assault.
Citing sobering statistics compiled by Black Women's Blueprint, The Black Women's Health Imperative, and the US Department on Justice, Axtell delves into the various reasons why so many Black women choose not to report their rape. She references the scholarship and activism of Lori Sasai Robinson, Dr. Gail Elizabeth Wyatt, Dr. Danielle L. McGuire, and Dr. Charlotte Pierce-Baker, who have each spent numerous years researching and writing about Black women and rape.  Axtell also places Aishah Shahidah Simmons and her documentary film NO! along a continuum of Black women's creative resistance against all forms of sexual violence perpetuated against Black women and girls.
Black Women, Sexual Assault, and the Art of Resistance is another powerful intervention in raising awareness about the horrific impact of the intersections of race, gender, class, and sexuality on many Black women rape and sexual assault survivors. Axtell writes,
[...]Historically, law enforcement has been used to control African-American communities through brutality and racial profiling. It may be difficult for a Black woman to seek help if she feels it could be at the expense of African-American men or her community. The history of racial injustice (particularly the stereotype of the Black male as a sexual predator) and the need to protect her community from further attack might persuade a survivor to remain silent.

We need more research to fully understand the scope of violence against Black women and the barriers they face to receiving support services. This requires both the political will and funding to make their lives a priority. Unfortunately, due to a long history of systemic racism and classism in the United States, the violation of Black women's bodies is often rendered invisible.
You may read the article in its entirety by clicking here.
As of April 30, 2012, Black Women Sexual Assault and the Art of Resistance has been picked up by several sites including:
http://blackpoliticsontheweb.com/2012/04/25/black-women-sexual-assault-and-the-art-of-resistance/
http://tbann.com/blog/black-women-sexual-assault-and-the-art-of-resistance/
http://legalnews.findlaw.com/article/05Gt4B5cBggO6
http://www.ncrw.org/news-center/media-roundup
April 11, 2011
Robin Morgan Guest Curated NO! The Rape Documentary
at 2011 DOXA Film Festival
Feminist activist, prolific author, and former editor of Ms. magazine Robin Morgan guest curated NO! The Rape Documentary for the 2011 DOXA Film Festival. DOXA is Western Canada's largest documentary film festival. This is an important honor for NO! for two major reasons. One, founder/leader of US contemporary feminism, Robin Morgan has also been a leader in the international women's movement for 30 years and counting. She has published over 20 books including the now-classic anthology Sisterhood Is Global. In her essay, "NO! A Film of Sexual Politics – An Art," Morgan writes:
"…Since the invitation to be a guest curator, I've thought of so many films crucial to the flowering of global feminism, to the coming to voice of women -more than half of humanity- that my list was more than enough for a complete festival… But at heart I knew from the first what my choice was going to be: an extraordinary, feature-length documentary 11 years in the making, the creation of one stubborn, visionary woman, Aishah Shahidah Simmons. Simmons conceived, wrote, directed and produced NO! The Rape Documentary, a ground-breaking film that explores the international reality of rape and other forms of sexual assault…"
Two, it is really an honor for Robin Morgan, an esteemed and internationally known feminist activist/author/activist/organizer to curate NO! for DOXA, a highly respected international documentary film festival five years after NO!'s world premiere at the 2006 Pan African Film Festival in Los Angeles.
Click HERE to read "NO! A Film of Sexual Politics – and Art," by Robin Morgan on DOXA's archived 2011 program website.
Aishah Shahidah Simmons will present NO! The Rape Documentary at DOXA on Saturday, May 14, 2011 at 4pm at the Vancity Theatre.
For more information about the presentation of NO! at the 2011 DOXA Film Festival, click HERE
Following is the full text of Robin Morgan's essay:
NO! A Film of Sexual Politics — and Art
by Robin Morgan
I'm grateful to DOXA for this chance to sing the praises of documentary films. Since the invitation to be a guest curator, I've thought of so many films crucial to the flowering of global feminism, to the coming to voice of women — more than half of humanity — that my list was more than enough for a complete festival. There were classics like Julie Dash's Daughters of the Dust, or Canada's own Not a Love Story, the first exposé of the violence inherent in pornography, a film by Bonnie Sherr, who's recently made such brilliant documentaries as Shameless, about artists with disabilities. And there were more recent gems, like Gini Reticker's and Abigail Disney's Pray the Devil Back to Hell about the amazing women who pieced Liberia back together from the ruins of dictatorship.
But at heart I knew from the first what my choice was going to be: an extraordinary, feature-length documentary 11 years in the making, the creation of one stubborn, visionary woman, Aishah Shahidah Simmons. Simmons conceived, wrote, directed and produced NO! The Rape Documentary — a ground-breaking film that explores the international reality of rape and other forms of sexual assault.
Herself an incest and rape survivor, the daughter of a civil-rights activist (who is also a rape survivor and who appears, movingly, in NO!), the filmmaker founded AfroLez Productions in 1990 ("AfroLez" defines the culturally conscious role of black women who identify as Afrocentric, lesbian, and feminist). She co-produced two monthly public television programs for a Philadelphia PBS affiliate. Her acclaimed short videos Silence…Broken (1993) and In My Father's House (1996), explore the intersected issues of race, gender, homophobia, rape and misogyny.
But it is NO!, officially released in 2006, that has come to have a vivid life of its own, as its electric energy connects with women around the globe. It has been shown at film festivals, community centers, colleges and universities and high schools, prisons, conferences, rape-crisis centers, and battered-women's shelters, and screened by government agencies and non-governmental organizations both, in Brazil, Burkina Faso, Canada, Colombia, Croatia, England, France, Guadeloupe, Hungary, India, Italy, Jordan, Kenya, Malaysia, Mexico, Nepal, The Netherlands, Peru, Rwanda, Serbia, South Africa, Spain, Turkey and Venezuela.
In 2006, NO! won the Audience Choice Award and a Juried Award at the San Diego Women's Film Festival. Most recently it won the juried Best Documentary Award at the 2008 India International Women's Film Festival. With a grant from the The Ford Foundation, Simmons coordinated the French, Spanish, and Portuguese subtitling of NO!; produced and directed the two-hour Breaking Silences: A Supplemental Video to NO!, and was the creative and editorial director of Unveiling the Silence: NO! The Rape Documentary Study Guide, co-created by Salamishah Tillet, Ph.D., and Rachel Afi Quinn. The website serves as a contact hub for activists and survivors globally; women post their own testimonials and connect with others about surviving assault, healing and activism (www.notherapedocumentary.org).
This film sings like a well-forged tool in the hands of all women. I write "all women" deliberately because it's true — I'm moved to weep by the film's power every time I see it. NO! is a report about the toll taken on all women, as rape (stranger rape, acquaintance rape, date rape, marital rape, incest rape, gang rape, ethnic rape, and more), plus sexual harassment, stalking, battery — violation — affects our daily lives. Women live with this: fear, implicit social limitations on movement, chilling effects on freedom. Betrayal by trusted male teachers or mentors or heroes or pastors or bosses or colleagues or nice-boys-next-door, by beloved blood relatives, by priests. Recurring flashbacks that terrorize victims, post-traumatic-stress disorders that plague survivors lifelong. Blaming of the victim (who must have "really wanted it," who must have "asked for it"). Secrecy. Shame. This film is universal in that all women can find themselves in it.
Yet as a white, European-American woman, I can only imagine the validation, the silence-smashing relief, the enormity of truth finally being expressed, that an African-American woman must feel on viewing NO! — or a Latina, an Indigenous woman, an Asian-American, any woman of color.
Because this film is specifically about the realities of sexual violation for African-American and other women of color. Simmons' bravery in forging this film is historic.
Communities of color are focused on fighting entrenched racism (blatant or subtle), and its accompanying griefs: poverty (and poverty-related heath issues), educational and employment discrimination, violence born of despair, high crime rates, etc. This battle against racism has sometimes been expressed as a struggle for black "manhood," ostensibly robbed by a white power structure that would not hire black men but did hire black women — in largely low-paying service jobs — thus creating a so-called "black matriarchy." (How working triply hard and being blamed for doing so is an empowering status is nonsensical, but every community has used women as scapegoats through history.) Despite this, black women have persistently dared raise issues of feminism/womanism: black women's rights. They have critiqued the denial of sexual and familial violence in the community, the misogyny and homophobia of certain rap lyrics, the reluctance to denounce O.J. Simpson or Mike Tyson. Those women were of course accused of being "divisive" to the "larger struggle," of "hanging out dirty linen in public," sometimes even of being "race traitors." Intra-community attacks rained down on such writers as Ntozake Shange, Alice Walker, even the great Toni Morrison — for daring to expose buried truths about black womanhood's realities.
In the United States, one in three women will experience sexual assault in her lifetime. But though African-American women comprise approximately 7 percent of the U.S. population, they currently constitute 18.8 percent to 28 percent of sexual assault victims. So NO! is a film about racism as much as it is about sexism — as if the two were separable, which they're not. (Racism is at the core of the idea of preserving some mythical "purity" of descent; in order to control such "purity" it's imperative for patriarchy to control women's reproductive systems and sexuality.) Similar appalling statistics resonate in other communities of color. The figures increase for lesbian women — who often suffer particularly vicious attacks "to teach them a lesson" about being "real women."
The voices and faces in NO! present an array of experience and wisdom. We hear such distinguished academics as Johnnetta Cole and Beverly Guy Sheftall, womanist leaders like Barbara Smith, activists like Elaine Brown, church leaders, psychologists, sociologists, directors of rape-crisis centers — and most of all, survivors, trying to understand, trying to heal.
Because this is a film as much about healing as about violation. Whether a survivor is trying to cure herself from having been forcibly infected with HIV or from persistent nightmares and PTSD (post-traumatic stress disorder), she is fighting the poisonous aftermath of sexual assault in ways parallel to fighting the criminal act.
The women's movement has said for decades that rape is a form of sexual politics, that sexual violence is not about sex, but about power.
To counter that, NO! presents a different kind of power — not power over, but power to. And here is where, for me, the film transcends its own fine documentary consciousness-changing genre and enters the realm of art.
The personal stories, told vulnerably and haltingly, the restrained use of music, the choice of color in backdrops, the lighting, the editing, the unsentimental use of poetry — even movement — is as risk-taking as confronting the subject itself.
And it works.
If I had my way, NO! would be required viewing in schools everywhere, shown to 6th grade classes or even younger students, with separate follow-up discussions for girls and for boys. If I had my way, it would be aired on TV networks, uncut, every day during Rape Awareness Month. If I had my way, it would have garnered an Oscar.
But the best I can do — besides buying copies of the DVD for friends and recommending it in my books and speeches — is to "curate" it for my friends and sisters at DOXA.
Please give yourself the experience of NO!
It will change your consciousness.
It will change your life.
November 17, 2008
"NO! deserve a resounding YES for it's bold approach to confronting the taboos, controversy and horrors of the sexual assault of Black women/girls. NO! is a potent healing balm and a fierce weapon. NO! is a vital tool for soul revival and spirit restoration amongst sexual assault survivors, advocates and educators alike. Accept love-preview NO!"
Skye Ward, Freelance Writer and Blogger